Editing by Kate Yuan
The Chinese team from Huazhong University of Science and Technology in Wuhan City of central China's Hubei Province took first place in the CAD Contest at ICCAD 2021, an international EDA conference with a long history early this month.
Source: Huazhong University of Science and Technology
This was their first time for the Chinese team to participate in this competition with an average age of only 24 years old. Professor Lü Zhipeng led the team, and other members include Dr. Su Zhouxing, Luo Canhui, Liang Jinghu, and Xie Zhenxuan.
Lü Zhipeng said in an interview, "Chip design is very complicated. The entire ecosystem requires the cooperation of both the upstream and downstream industries. It needs enduring efforts."
ICCAD (International Conference on Computer-Aided Design) started in 1980 and is one of the top academic conferences with the longest history in the EDA industry. As the conference's hallmark, the CAD Contest has long attracted international academic and industry communities.
Its contest subjects come from the real business scenarios of world-renowned EDA or semiconductor companies such as Cadence, Synopsys, Siemens Mentor, Nvidia, and IBM. Professor Lü's won the 1st place in the contest subject dealing with Routing with Cell Movement Advanced.
One hundred thirty-seven teams from 12 countries and regions participated in the CAD Contest, including many well-known universities and research institutions, such as the University of California, Berkeley, University of Tokyo, National Taiwan University, Chinese University of Hong Kong, and Fudan University.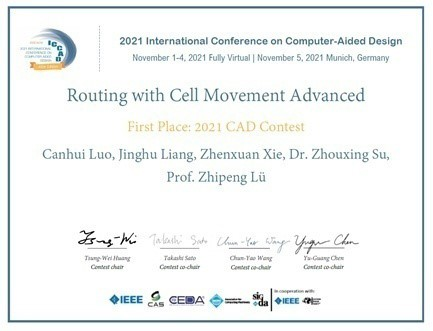 Professor Lü got his Ph.D. from Huazhong University of Science and Technology, which has the laboratory on algorithms for NP-hard problems and industrial applications with 40 years of history. Professor Lü used to research algorithms and started to focus on chip research less than three years ago. He led his team making into the world's top three in international algorithm competitions several times.